MEET SKY2 & STORM: THE COMPLETE SMART WEATHER CAMERA SYSTEM
Introducing the second generation SKY2 and the all new STORM.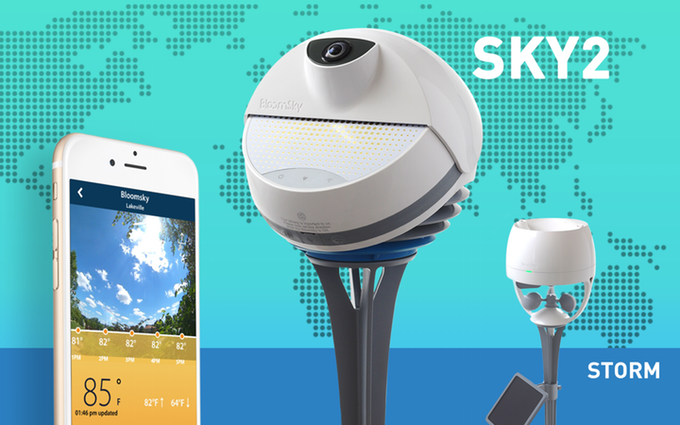 SKY2 is our second generation weather camera station measuring;
– Temperature
– Humidity
– Barometric pressure
– Precipitation
At the heart of it, SKY2 features an HD camera capturing real-time images every 5 minutes. At the end of the day, you'll have a time-lapse, telling a clear story of your sky.
STORM is an all new accessory device measuring;
– Rainfall total
– Wind speed
– Wind direction
– UV
It is a wireless add-on device paired with your SKY1 or SKY2 only, providing you with more data that matters.
BloomSky Weather APP is your free mobile control center for sharing and viewing valuable weather information. The interface intuitively displays collected data from your devices so you have on demand access to real-time conditions.
As a device owner, you can broadcast current weather trends or changes. Send notifications in friendly greetings or weather reports to your followers so they can be informed when you are.